2023 CCE Conference: Save the Date & Call for Proposals
01/20/2023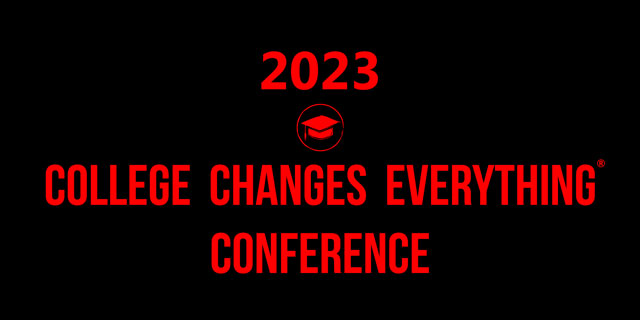 Back in person July 13, 2023
2023 CCE Conference – DEIA: The Work We Need to Do
We hope you will join us for the 13th annual College Changes Everything® (CCE) conference live and in person on Thursday, July 13, 2023, at the Tinley Park Convention Center, Tinley Park, Illinois. The annual conference is the state's preeminent college access and success and career readiness event. Diverse stakeholders work together and learn from each other to help Illinois reach its Goal 2025 – to increase the proportion of adults in Illinois with high-quality degrees and postsecondary credentials to 60% by the year 2025.
Since the first CCE conference, equity has been an underlying tenet of this annual convening as it brings together caring professionals who want to ensure all students have opportunities for college access and success and are career ready. As we continue to emerge from the global pandemic that disrupted the lives of our students and the way in which we support and serve them, it's vital we take this opportunity to examine and assess how we are doing in regards to our collective work around Diversity, Equity, Inclusion and Accessibility (DEIA) – e.g., what has been working and why; what hasn't worked and why not; what changes did the pandemic bring we want to keep. Why wait for another global event to push our DEIA work forward? Conference participants will have the opportunity for collaborative engagement where we draw upon each other's expertise, experience, and wisdom to contribute to a peer-to-peer learning environment.
Call for Proposals: Due March 3, 2023
We invite you to help make this conference a valuable professional development experience by submitting a conference interest session proposal. Please click here to access the session proposal form online, or it is also available via the conference website. Presenting at the CCE conference is a terrific way to support and engage in active learning with colleagues, share your knowledge and stories with a diverse audience, and enrich your own professional growth.
As the conference draws a broad group of professionals and stakeholders, we welcome proposals that cover a wide range of topics related to college access and completion and career readiness. Such topics might include and are not limited to: college and career readiness; student retention, persistence, and completion; programs and services for underrepresented students; educational equity; student wellness and emotional support; career and technical education; partnerships; career development experiences; education, business, and the economy; college costs, financial aid, and affordability; and community stakeholder engagement. In support of the conference theme, session proposals should also explain how the information will be shared through an equity lens.
Deadline – Priority consideration will be given to completed session proposal forms submitted by Friday, March 3, 2023. The online proposal form is on the conference website.
Non-Commercial Policy – Please note that sessions are to be non-commercial forums. Individuals should refrain from using brand names or endorsing specific products. Sessions are not to be used as a place for direct promotion of products and services.
Conference Registration – Presenters must register for the conference, and the registration fee is $40.00. Conference registration will open later this spring.
Presenter Compensation Policy – The CCE conference does not provide any compensation for individuals accepted to serve as conference interest session presenters. This includes compensation for travel-related expenses and hotel accommodations.
Please share the information in this e-Message with colleagues in your organization and other partners.
2023 College Changes Everything Conference Planning Committee
Illinois Student Assistance Commission
Illinois Board of Higher Education
Illinois Community College Board
Illinois Department of Commerce and Economic Opportunity
Illinois State Board of Education
Illinois College Access Network
Federation of Independent Illinois Colleges and Universities
Advance Illinois
Education Systems Center at Northern Illinois University
ACT Now
Women Employed

The College Changes Everything® Conference is sponsored
by the Illinois Student Assistance Commission.


Helping Illinois reach its Goal 2025: to increase the proportion
of adults in Illinois with high-quality college degrees and
postsecondary credentials to 60% by the year 2025

You are receiving this message because you registered for ISAC's e-Messaging service through one or more subscription groups for Counselors.